Barefoot Luxury Meets Bohemian Chic
From luxury tented and treetop villas to private houses…all with spectacular views of the Andaman Sea
Tented Beach Villas
Wa Ale features 11 luxury state of the art tents with unobstructed ocean views and accommodates up to 4 guests. Each family sized villa has a king size canopy bed and a sofa that can convert into 2 single beds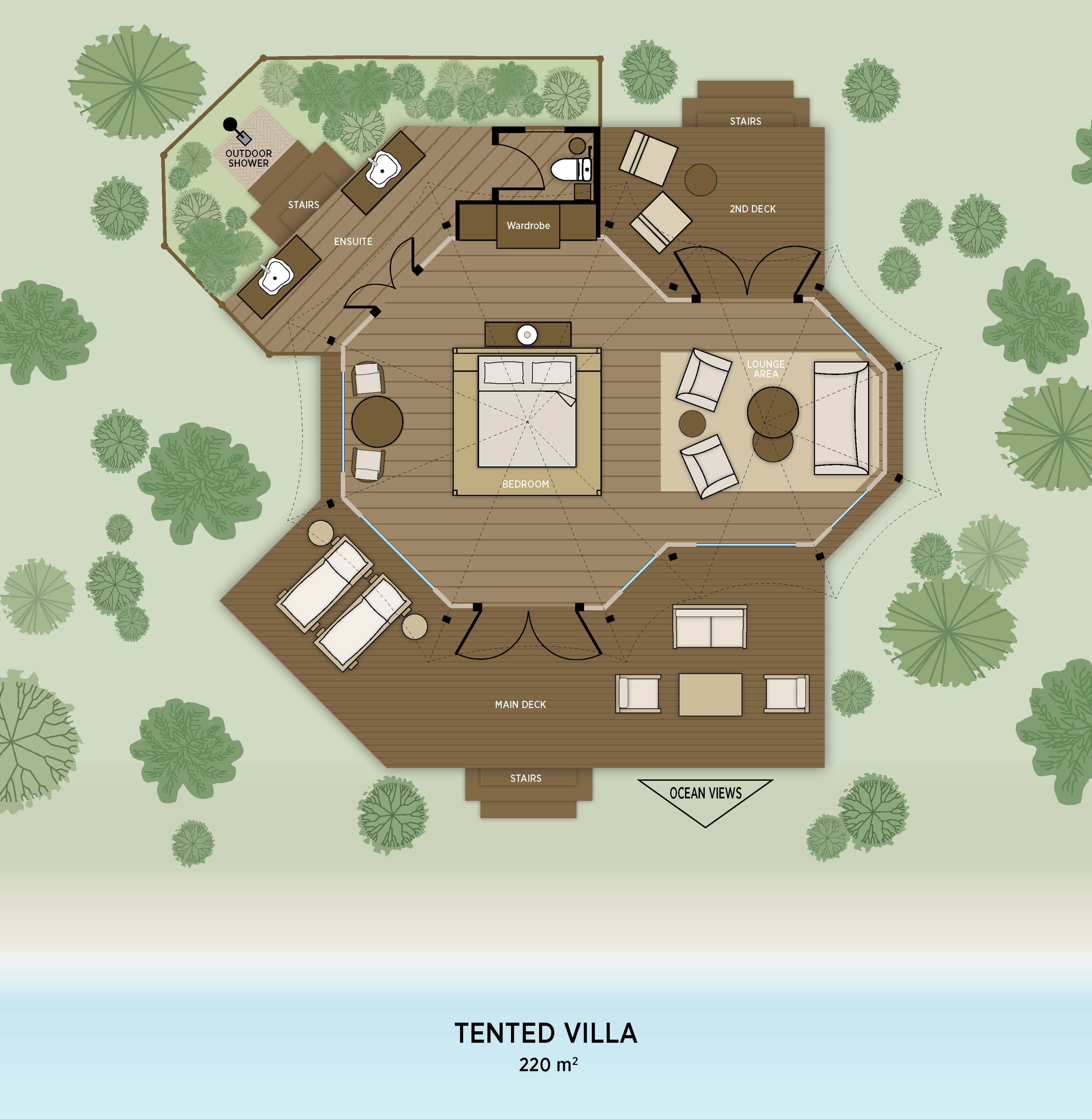 VALIDITY
PER PERSON SHARING
PER PERSON SINGLE

LOW SEASON

1 Oct – 14 Nov 2020

1 Apr – 31 May 2021

US$590 per night
US$720 per night

HIGH SEASON

15 Nov – 22 Dec 2020

7 Jan – 31 Mar 2021

US$740 per night
US$900 per night

PEAK SEASON

23 Dec 2020 – 6 Jan 2021

US$1000 per night
US$1220 per night
CHILDREN 10-16 years sharing with adult

LOW SEASON

1 Oct – 14 Nov 2020

1 Apr – 31 May 2021

US$160 per night

HIGH SEASON

15 Nov – 22 Dec 2020

7 Jan – 31 Mar 2021

US$200 per night

PEAK SEASON

23 Dec 2020 – 6 Jan 2021

US$265 per night
4 guests maximum: 2 children (10-16 years) + 2 adults
Book Now
Treetop Villas
Relax in our unique and intimate treetop villas perched in a canopy of trees
with a private veranda. The king bed villas have an outdoor shower and can
comfortably accommodate 2 guests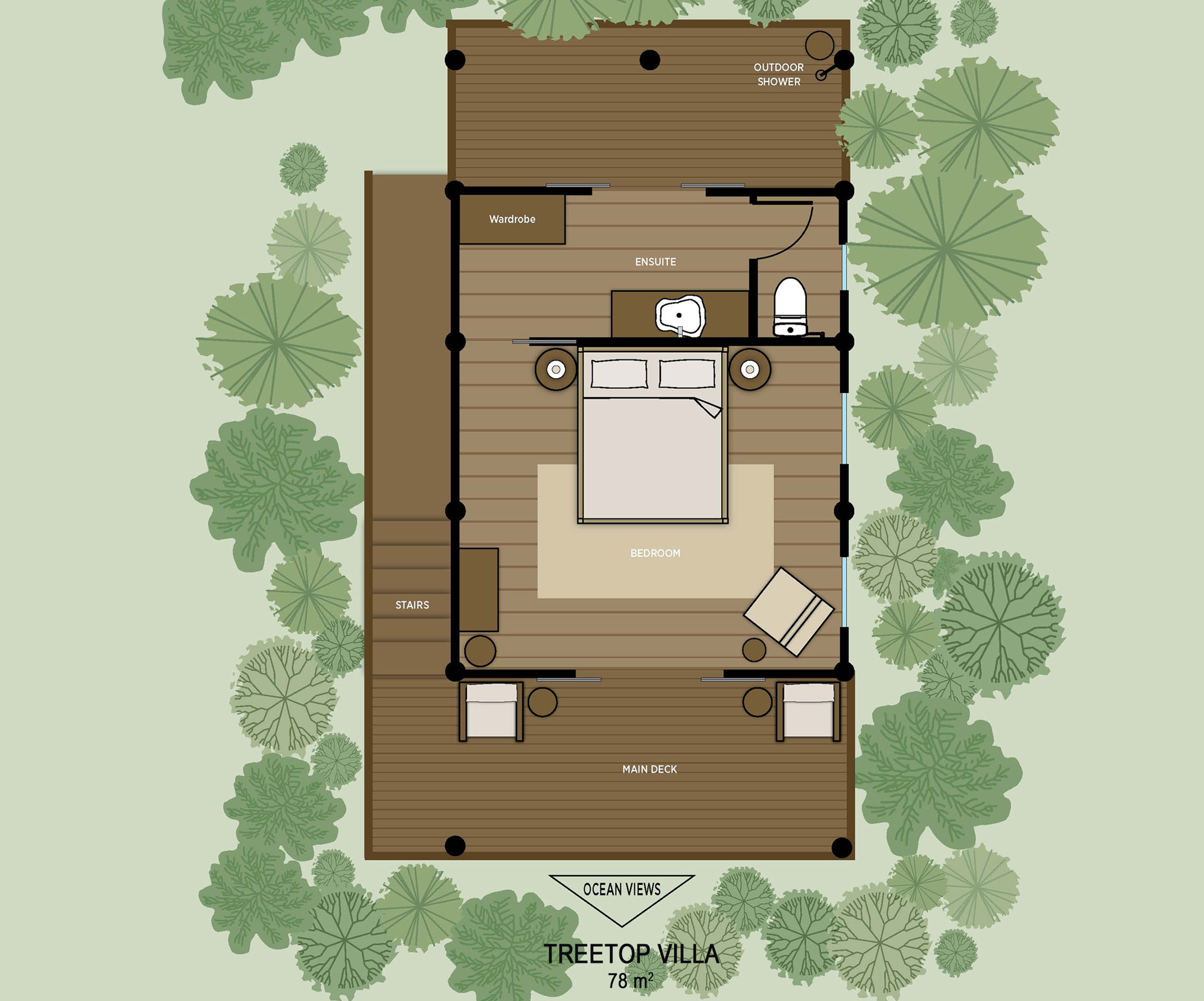 VALIDITY
PER PERSON SHARING
PER PERSON SINGLE

LOW SEASON

1 Oct – 14 Nov 2020

1 Apr – 31 May 2021

US$425 per night
US$590 per night

HIGH SEASON

15 Nov – 22 Dec 2020

7 Jan – 31 Mar 2021

US$530 per night
US$740 per night

PEAK SEASON

23 Dec 2020 – 6 Jan 2021

US$720 per night
US$1000 per night
2 guests maximum
Book Now
INCLUSIONS & EXCLUSIONS
RATES INCLUDE
Full Board – B/L/D
Boat transfer to and from Wa Ale on SATURDAYS and TUESDAYS
Transfer to and from Kawthaung and Ranong Airports to Kawthaung Jetty on Saturday and Tuesday
House wine, beer and non-alcoholic beverages: which include sodas, juices, coffee and tea
Internet
Room amenities
Non-motorized and land based activities (paddle boarding, kayaking, snorkeling, jungle hikes and cultural visits)
RATES EXCLUDE
Premium Wines, Liquor and Champagne
Scuba Diving
In room massages
Boat transfer any day other than Saturday and Tuesday is US$250 per person round trip and US$170 per person one way(includes transport to and from Kawthaung or Ranong Airport)
Conservation donations
Gratuities
VAT
The Beach House
The Beach House is a private oasis of stylish living set in a secluded bay on the beautiful 1 km stretch of Honeymoon Beach, a 10-minute boat ride to Wa Ale Resort's Turtle Beach. Backed by an indigenous forest, this four bedroom retreat offers magnificent uninterrupted ocean views and is ideal for a reunion of family and friends.

SEASON VALIDITY
RATE PER ADULT/CHILD PER NIGHT
ADULT
CHILD (Max age 16)
MINIMUM PER NIGHT

LOW SEASON

1 Oct – 14 Nov 2020

1 Apr – 31 May 2021

US$800 per night
US$160 per night
US$4 000 per night

HIGH SEASON

15 Nov – 22 Dec 2020

7 Jan – 31 Mar 2021

US$1 000 per night
US$200 per night
US$5 000 per night

PEAK SEASON

23 Dec 2020 – 6 Jan 2021

US$1 300 per night
US$265 per night
US$8 000 per night
MAXIMUM ADULT OCCUPANCY: 8
MAXIMUM TOTAL OCCUPANCY: 12
Book Now
Beach Bungalows
Nestled near Wa Ale's lush organic farm with spacious decks spilling on to a wide white sand beach, the private bungalows are the ultimate in bohemian chic with 2 luxury king bedrooms and another large well- appointed bedroom with a king bed and additional bunk bed for two.

SEASON VALIDITY
RATE PER ADULT/CHILD PER NIGHT
ADULT
CHILD
(Max age 16)
MINIMUM PER NIGHT

LOW SEASON

1 Oct – 14 Nov 2020

1 Apr – 31 May 2021

US$560 per night
US$160 per night
US$1 600 per night

HIGH SEASON

15 Nov – 22 Dec 2020

7 Jan – 31 Mar 2021

US$700 per night
US$200 per night
US$2 000 per night

PEAK SEASON

23 Dec 2020 – 6 Jan 2021

US$910 per night
US$265 per night
US$2 600 per night
MAXIMUM ADULT OCCUPANCY: 6
MAXIMUM TOTAL OCCUPANCY: 8
Book Now
INCLUSIONS & EXCLUSIONS
RATES INCLUDE
Full Board – B/L/D. All meals are served in the house at the Beach House. Beach Bungalow guests are served breakfast in their home and invited to enjoy their other meals at the Beach Lounge
Private butler
Boat transfer to and from Wa Ale on SUNDAYS and WEDNESDAYS
Transfer to and from Kawthaung and Ranong Airports to Kawthaung Jetty on Sundays and Wednesdays
House wine, beer and non-alcoholic beverages: which include sodas, juices, coffee and tea
Internet
Room amenities
Non-motorized and land based activities (paddle boarding, kayaking, snorkeling, jungle hikes and cultural visits)
RATES EXCLUDE
Premium Wines, Liquor and Champagne
Scuba Diving
In room massages
Boat transfer any day other than Sunday and Wednesday is US$250 per person round trip and US$170 per person one way (includes transport to and from Kawthaung or Ranong Airport)
Conservation donations
Gratuities
VAT